APRIL
Once again you guys have not made our job easy, but that's a good thing! We absolutely love seeing all of you rocking P4P outfits. April brought a lot of stunning Easter entries, I wish we could list them all.
Ok, Ok…I won't make you wait any longer. Our April winner is Emily Merkel! Just look at this cool dude and tell me you can resist his smile. I couldn't. He is just the cutest showing off his #allP4Ptoday outfit.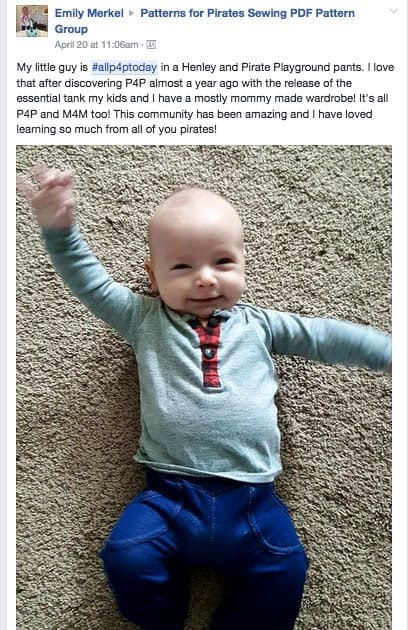 Keep those hash tags coming as there will be a winner every month. Happy sewing, pirates!
MARCH
Ohh wow! You guys have not made it easy for us to choose a March winner. We loved seeing you all rocking #allP4Ptoday and everyday.
Without further ado….our March winner is….. Lizzy Price! Lizzy just shines in all her pictures and since I couldn't choose just one of them, here are a few that stood out. I think she might just be our SOS pants queen 😉
Thank you all who posted during March and don't forget to keep showing off those P4P outfits. Use hashtag #allP4Ptoday so we can find them and who knows? Maybe YOU will be our April winner. You can read the contest details here.
Alex