DECEMBER
And just like that, a new year is almost here. Hope you all had a fantastic holiday season! We couldn't end the year without announcing our last 2017 #allP4Ptoday winner!
So without further ado…our December winner is:
Laura Van Niejenhuis
Laura has been rocking #allP4Ptoday every month since we started the contest. From casual to party attire, Laura has made them all and looks radiant in them.
Thank you all for a fantastic 2017!🎉 Keep posting your all P4P outfits next year too, we will be watching! 😉
NOVEMBER
Ahoy, pirates! We hope you had a wobbly gobbly Thanksgiving celebration! We saw some awesome P4P outfits being shown off this month. As always choosing only one winner was super hard.
Drumroll…. our latest #allP4Pwinner is Maggie Runyon!
Maggie's post brought a smile to all the team's face so we just had to pick her as our November winner. She looks adorable in her Wiggle dress … but little miss stole the show in her Fav tee dress. Congratulations, Maggie!!
We can't wait to see your holiday all P4P outfits! Use the hashtag #allP4Ptoday so we can spot you!
OCTOBER
Boo! The trick or treating month has come and gone! We absolutely loved seeing you rock the Gone Batty shirt and incorporating P4P in your fall sewing.
Our October #allP4Ptoday winner is…. MAGDELYN GAMBLE !
Magdelyn rocked those Disneyland family outfits! She is definitely an inspiration, she chose the perfect P4P patterns ( Henley, Peg Legs and Sugar Pie) so that everyone was comfortable for the long walks while still being "park ready" and cool.
The Sweetheart  dress gets a lot of love from our October winner, she looks absolutley gorgeous in both the dress and the peplum top. Thank you, Magdelyn for sharing your creations with the P4P group.
I can't wait to see your November entries and how you incorporate P4P in your Thanksgiving sewing. Don't forget to add the #allP4Ptoday to your posts so we can see YOU when we search for our monthly winner.
SEPTEMBER
And just like that fall is here!!! I think most of you are just as excited as I am for some cooler weather and some pumpkin spice everything.
September P4P group wall was filled with amazing creations! We've seen lots of pegs, SOS and cocoons…clear sign of autumn's arrival. So without further ado….our September #allP4Pwinner is…
JESSIE KILGER!
Jessie rocked her Pegs, SOS, Cocoon Cardigans and Favorite Tees like a boss! I loved how she shows the versatility of our patterns and look adorable doing it.
Keep posting those #allp4ptoday outfits in the P4P group! Maybe October's winner will be YOU!
AUGUST
Ahoy, pirates! The month of August brought a lot of fantastic #allP4Ptoday outfits. We've seen kids going back to school and teachers ready for a brand new school year. One mom and teacher really stood out this month so let's give a big "Congratulations!" to our August winner…
Britina Gilkey
Britina really brought her A game this past month…check out how many cool #allP4Poufits she posted!
From PSD to Peg legs, she's done it all! We were just so happy to see all the great posts.
Happy sewing, pirates and remember to hash tag your #allP4Ptoday outfits.
JULY
Another summer month has come and gone. Have you guys started sewing for fall? Personally, I am not quite ready to give up on summer just yet…so when I was scrolling to all the amazing #allP4Ptoday photos one stood out for being what summer is all about.
Our July all P4P today winner is…..
Callie Zerby
Doesn't Callie look stunning in her Hello Sailor and Siren Swim Top ? We hope you had an amazing birthday party, Callie!
If you're wearing all P4P, snap a pic, post it in the group and tag it #allP4Ptoday…you may be our next lucky winner!
JUNE
Summer is officially on and so are the #allP4Ptoday outfits! We loved seeing all the light and breezy creations you posted this month and the occasional layered look from our friends down under. You guys were really rocking your P4P this month and we couldn't be more proud.
Without further ado…the June winner is:…Beth Pannecoucke !

Beth has been showing off her baby bump comfy looks throughout the month so she caught the team's eye. Just look how adorable she looks in her Favorite Tee and Palazzo short.
From the Cross my Heart Cami to FST and Cocoon Cardi, Beth has been rocking them all!
Don't forget to hash tag your all P4P outfits post in August too. We look forward to seeing some of your Summer of Wovens creations too!
MAY
Can't believe we are at the end of May already. Another month has passed and you have all outdone yourself. We've seen so many beautiful #allP4Ptoday outfits…you guys really like to make it hard on us to choose the monthly winner.
We've seen some spring outfits, some summer ones, even some special event ones. MeMadeMay was big in the Pirates land!
Drumroll….May's winner is…. Susan Priddy – Fox! Susan has done a beautiful job making her and her daughter's outfit for such a special event. Congratulations, Susan!
Don't forget that the #allP4Ptoday contest is ongoing so keep those hashtags coming. You never know, next winner may be YOU!
APRIL
Once again you guys have not made our job easy, but that's a good thing! We absolutely love seeing all of you rocking P4P outfits. April brought a lot of stunning Easter entries, I wish we could list them all.
Ok, Ok…I won't make you wait any longer. Our April winner is Emily Merkel! Just look at this cool dude and tell me you can resist his smile. I couldn't. He is just the cutest showing off his #allP4Ptoday outfit.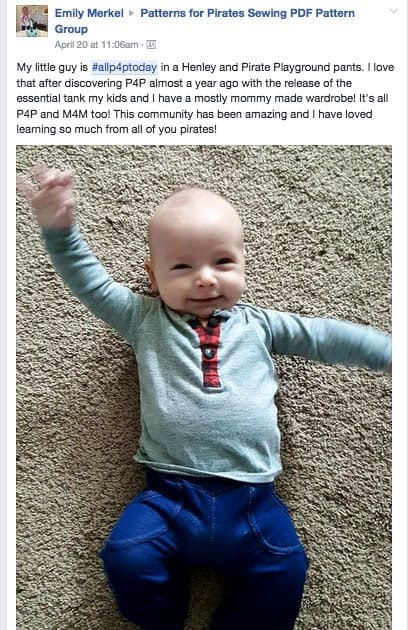 Keep those hash tags coming as there will be a winner every month. Happy sewing, pirates!

MARCH
Ohh wow! You guys have not made it easy for us to choose a March winner. We loved seeing you all rocking #allP4Ptoday and everyday.
Without further ado….our March winner is….. Lizzy Price! Lizzy just shines in all her pictures and since I couldn't choose just one of them, here are a few that stood out. I think she might just be our SOS pants queen 😉
Thank you all who posted during March and don't forget to keep showing off those P4P outfits. Use hashtag #allP4Ptoday so we can find them and who knows? Maybe YOU will be our April winner. You can read the contest details here.